Episodes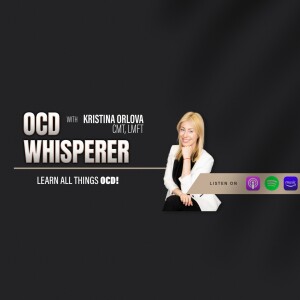 Monday Feb 06, 2023
Monday Feb 06, 2023
Learn all things OCD with the OCD Whisperer Podcast.
#allthingsocd
Unlock the Secrets of Misophonia with Natasha Daniels!
Join the conversation with one of the leading experts in the field of OCD and Anxiety. Natasha Daniels shares her insights and knowledge.
Don't miss this exciting opportunity to expand your understanding of Misophonia.
Listen now! For further exploration, discover Natasha's cutting-edge resources and delve deeper into her work. Empower yourself with knowledge and expand your horizons. Check out these resources today!
Website: www.ATparentingSurvival.com
Book: https://www.amazon.com/Natasha-Daniels/e/B011K5IIWA
Youtube: https://www.youtube.com/@UCuoDSSCePQ6xkbi2FJNm9kA
***
_____
Disclaimer: This podcast is for educational purposes.  Though I am a licensed marriage and family therapist in California & specialize in OCD and Anxiety Disorders, this does not replace therapy. 
See you in the next episode!
Keep going in the meantime.
*Episodes come out out bi-weekly.