Episodes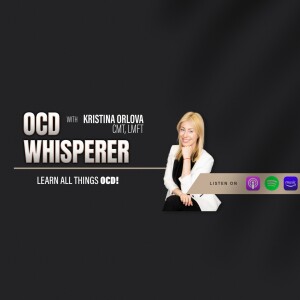 Tuesday May 30, 2023
Tuesday May 30, 2023
Learn #allthingsocd with the OCD Whisperer Channel.
OCD Survival Kit: get your free resource with podcasts, books, and bonus worksheets. Go to www.korresults.com
Take control of your OCD with the "Be OCD Free" course. Start your ERP journey and say goodbye to intrusive thoughts. Learn practical strategies and take the first step towards a brighter, OCD-free future. You get video lessons, journal prompts, worksheets, step by step process of how to apply these tools and some bonuses (like a couple of guided meditations recorded just for you!)
https://www.korresults.com/e-learning
***
Today I talk with Drew Linsalata of The Anxious Truth about agoraphobia. We get into what is it, how can a person recognize symptoms and what can you do about it.
To learn more about Drews works:
***
Please note, while our host is a licensed marriage and family therapist specializing in OCD and anxiety disorders in the state of California, this podcast is for educational purposes only and should not be considered a substitute for therapy.
Stay tuned for bi-weekly episodes filled with valuable insights and tips for managing OCD and anxiety. And remember, keep going in the meantime. See you in the next episode!